A-A-2020
October 19, 1982
COMMERCIAL ITEM DESCRIPTION
BOX, FIBERBOARD, OVERPACK FOR SINGLE, TYPE IV BOX
FOR POST OFFICE MONEY ORDER FORMS
The General Services Administration has authorized the use of this commercial item description in preference to Type V, Style B of Federal Specification PPP-B-1606. 
This description covers Post Office Money Order Forms Box, Fiberboard, Special Use, Type V, Style B. Type V shall be an end opening regular slotted box (RSC), modified as shown in figure 1. The size shall be inside dimensions, in inches, as follows, with a tolerance of minus 0, plus 3/16:
| | | |
| --- | --- | --- |
| Length | Width | Depth |
| 6-5/8 | 3-5/8 | 14-5/8 |
Salient characteristics:
The corrugated fiberboard shall be a minimum grade of 125, B-flute. Type V box shall have butted and taped manufacturer's joints.
Boxes shall be in accordance with National Motor Freight Classification, Item 222, or Uniform Freight Classification, Rule 41, and shall bear the appropriate boxmaker's certificate.
Workmanship. The boxes shall be free from any defect that may affect its serviceability, durability, or appearance.
Regulatory requirements. The offeror/contractor is encouraged to use recovered materials in accordance with Public Law 94-580 to the maximum extent practicable.
Preservation, packaging, packing, labeling, and marking.  Preservation, packaging, packing, labeling, and marking shall be as specified in the contract or order.
Note: Purchaser should reference this commercial item description.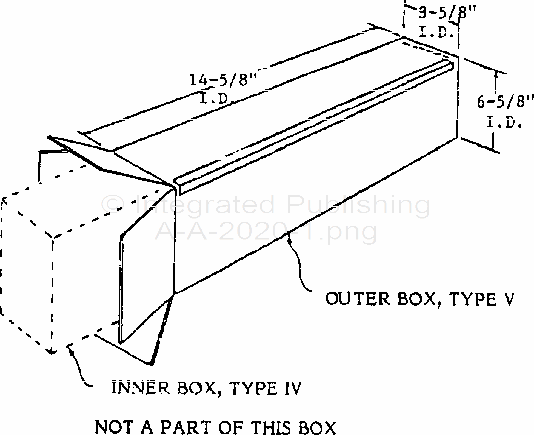 CIVIL AGENCY COORDINATING ACTIVITY:
USPS
PREPARING ACTIVITY:
GSA – FSS


For Parts Inquires submit RFQ to Parts Hangar, Inc.
© Copyright 2015 Integrated Publishing, Inc.
A Service Disabled Veteran Owned Small Business