A-A-670C
September 26, 1994
SUPERSEDING
A-A-670B
December 19, 1991
COMMERCIAL ITEM DESCRIPTION
BOXES, CORRUGATED FIBERBOARD, RECORDS RETIRING
The General Services Administration has authorized the use of this commercial item description by all Federal Agencies.
A. SCOPE
This description covers fiberboard boxes to be used for shipping Federal records to the National Archives.
B. CLASSIFICATION
The boxes shall be of two styles
Style 1- Regular slotted box of two sizes, color tan (See figure 1).
Style-2- Lock bottom box of two sizes, color white (see figure 2).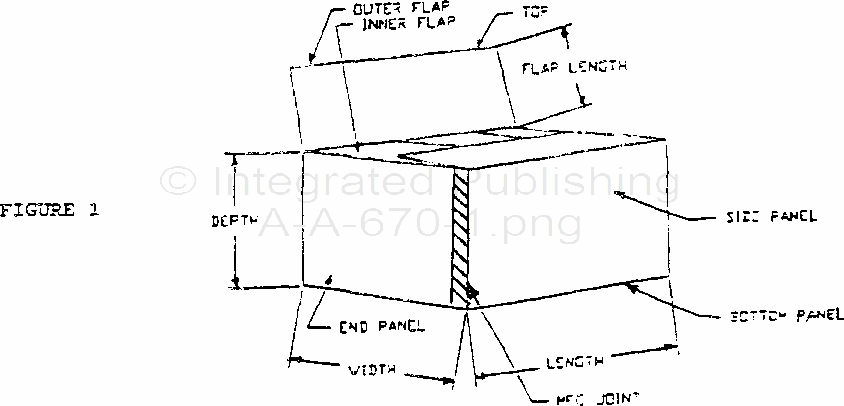 Style 1- Regular slotted box
Size A- 37.47 x 24.13 x 12.38 cm                         Size B- 37.47 x 16.51 x 11.43 cm
(14-3/4 x 9-1/2 x 4-7/8*)                                       (14-3/4 x 6-1/2 x 4-1/2")
Beneficial comments, recommendations, additions, deletions, clarifications, etc. and any data which may improve this Document should be sent to The General Services Administration, Federal Supply Service, Engineering Branch, New York, NY 10278.
DISTRIBUTION STATEMENT A: Approved for public release;
Distribution is unlimited.


For Parts Inquires submit RFQ to Parts Hangar, Inc.
© Copyright 2015 Integrated Publishing, Inc.
A Service Disabled Veteran Owned Small Business